IRON BUTT ARCHIVES - 22 AUGUST 2015
1,008 MILES IN 15 HOURS & 26 MINUTES
Completely In-State Michigan Saddle Sore 1000
Upper and Lower Penninsula
- The old battle-wagon is loaded up and ready to rock.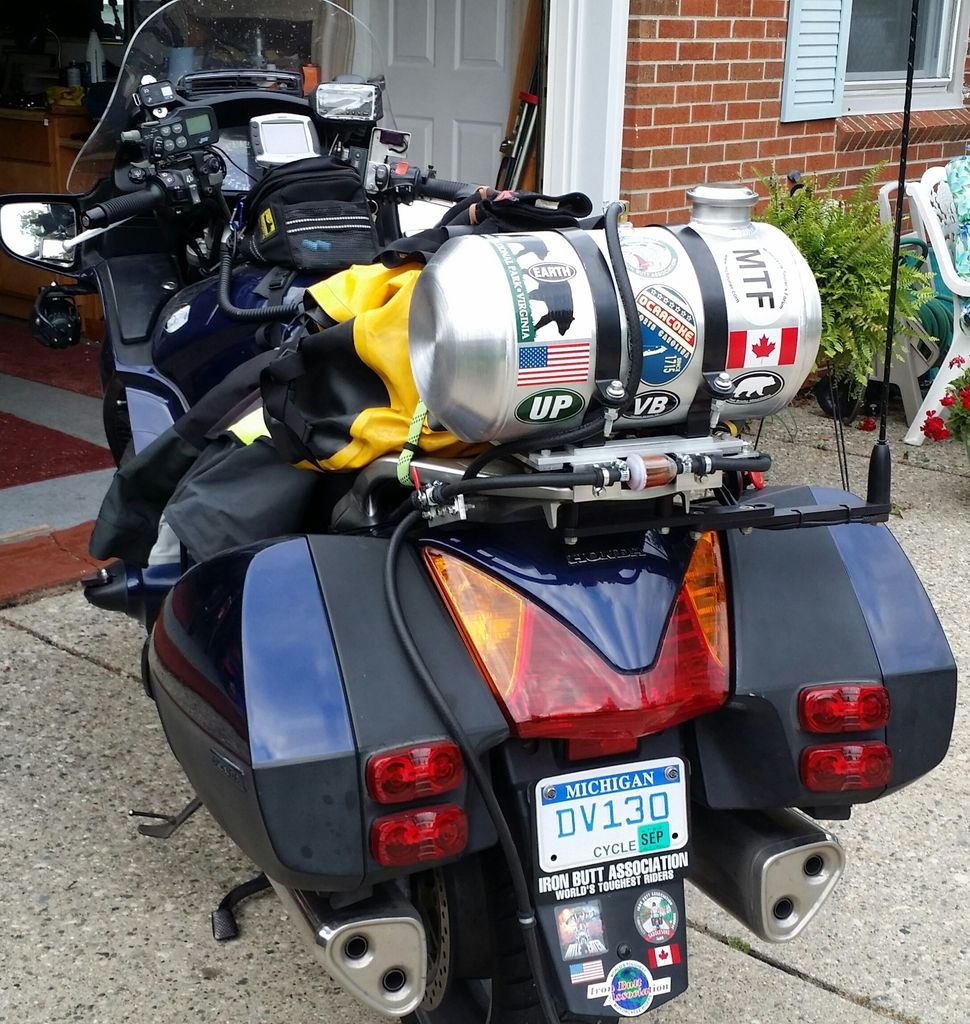 "Now that I am all ready to go and have nothing left to do but wait, the anticipation is building. The fear and terror is starting to set in also. Knowing the Bears and Wolves lie in wait for any mistake. Not to mention the vultures. The monkey butt that will nag throughout. The knot between the shoulder blades that intensifies with every mile. Then the incessant voices that fire up after about mile 700. The demons that perch up on your shoulders, chattering in your ears and telling you to stop after mile 900. The hunger, dehydration, and burning, fatigued eyes. The guilt and doubt. Scared, alone, and pushing on throughout the night in that vast northern country. If anyone finds me curled up on the side of the road, balling like a baby, stop and give a brother a hug."
- GAS GUY
The Yooper Madness 1000 was to depart at approximately 6:00 am Saturday morning from Houghton Lake, Michigan on the 22nd of August, 2015.
It was a route that would be partially run in both the Upper and Lower Penninsula; alot more two-lane roads than Interstates - meaning slower speed limits.
Since the starting location was 205 miles to the north west of us, most riders filled the available motels in the immediate area Friday night after our dinner and riders meeting at Big Boy's.
Scott, Kenny, and I left work shortly after 2:50 pm Friday heading north. Scott slipped out a little early, so Ken and I rode most of the way together, with him peeling off and spending the night at his cabin in Clare.
Shortly after leaving Metro Detroit, traffic came to a grinding halt on 1-696. Set us back a half an hour. Turned out to be a deer strike, middle of the day on the freeway in rush hour - hope that is not a bad omen.
After we got rolling again I wicked it up and started making time. Might as well flip the switch now and get in the proper "mind set" for tomorrow morning. Even with the traffic jam set-back, I made it the 205 miles to Houghton Lake in 3 hours, passing Scott on the way - 68.3 MPH overall average and somehow still managed 41 MPG.
Jim VanDenBerghe (the Ride Master) holding a riders meeting after dinner. He held another brief riders meeting in the morning before departure at the gas station. Have to stay informed and maintain order.
George Barker was our special guest on this ride. He is wearing the blue Iron Butt 5000 shirt. He is a Iron Butt Rally (11 day-11,000 miles) veteran.
We arrived at Big Boy and joined the slew of long-distance riders taking up a whole side of the restraunt. Scott and I sat with Bill from Ohio, who is a geography professor and rides a Honda NT 700.
Professor Bill
Being hungry, I grabbed a plate from the buffet and started scarfing down food as they all talked. Scott told Bill to get a good look at Gas Guy now, since it would likely be the last time - as I ride like I eat... FAST. That didn't turn out to be the case though, the last look that is, cause Bill was a beast on the little Honda and I couldn't shake him for long during the entire ride.
Opsal's Venture Inn was a dive. The 4:30 am wake up came early. First thing I heard was Jim and Scott outside the door discussing how Eddie was eaten up from the bed bugs. Upon closer inspection, we found a few in our beds as well, although I never got bit.
The motel cleared out quickly as all the riders rushed off to find some food before staging at the Beacon and Bridge fuel station to get their odometers recorded before departure.
Thinking ahead, I had brung along the jet boil and a couple of convenient cups of instant oatmeal, which I promptly devoured while brewing more hot water and pressing a double shot of Lobster Butter in the Aeropress.
The fuel station was over-run with motorcycles. We ended up with 55 riders and two pillions. Big turnout; just like years back when these regonial Iron Butt rides were run out of Capital Harley Davidson in Lansing.
Starting at 6:00 am, Jim sent bikes out in multiple groups. After all the other riders were released, our group, consisting of Jim and his friend on a GL-1500, Scott, Ken, and I departed at 6:20 in the morning.
No worries, I dropped the hammer right from the git, and left all the demons in the dust.
Ran a blistering pace all the way to the "SOO" (Sault Saint Marie). In short order, we had started catching up to and passing riders.
Lost Jim, Scott and Ken enroute to the "SOO." Crossed the "Mighty Mac" on the grate (open) peering down into the perilous waters of the Straight of Mackinac.
By the time we reached the SOO (first receipt) I'm pretty sure I had caught up to everyone - except George Barker and his Wing.
Very shortly after leaving the SOO, a quick stop in Rudyard for a mandatory receipt - only 1/4 gallon of fuel pumped and back on the road.
On the stretch up to Grand Marais, a menacing Harley Dresser was stalking me; staying right in my mirrors - wow, he was running hard. Also passed George Barker, who had already fuelled and was heading back south to take an alternate route to the mandatory Marquette fuel receipt. Weather was fantastic! The Harley rider hot on my tail was Don Hostetler and he ended up simultaneously fueling up alongside me in Grand Marais; this would be the theme for the balance of the ride as we rode together or in close proximity until the finish.
We ran hard through H-58 which may be Michigan's most invigorating and curvy road for any type of distance; Michigans mini "Tail of the Dragon". H-58 runs along Lake Superior so I stopped at a little road side pull-off with a deck structure over-looking the impressive Great Lake. There was a Harley rider there with his wife; they were out for a relaxing ride on that day and he came over to the ST in a very inquisitive mood wanting to know what all the gizmos and gadgets were and marveled as I explained them all to him.
Passed through Munising - charming little town - nestled along the shores of Lake Superior.
Stopped in Marquette and fueled up, snatching and bagging the mandatory fuel receipt. Guess who else was there - Don Hostetler. Passed Bald Eagle Harley-Davidson; the only dealer in Upper Penninsula. On the way to Gogebie Lake, once again passed George Barker, who had already been there and was now heading towards Escanaba. He had a head start; hopefully I can catch him.
Arrived at Gogebic Lake for mandatory receipt. Don on the Harley and Bill on the little Honda were also there. This was about the halfway point. Don and Bill are really riding efficiently.
Had to use the restroom after fueling up and there were a few people in front of me, so this stop cost me some time. Eating is being done exclusively from the tank bag on this ride. Most of the time I feel better when operating in this manner; a sort of fast; don't get as fatigued and it seems that the down swing in my circadian rhythm is usually not as severe.
Don and Bill left ahead of me while I was waiting to us the facilities. Leaving Gogebic behind and back-tracking towards Escanaba, Scott and Ken passed and waved on their way to Gogebie Lake. Running hard - I managed to reach Escanaba and fuel up alongside Don and Bill - again, despite their significant head start. Not easy to make time on riders of their caliber. Not to mention, George; who is an IBA RALLY VETERAN.
Escanaba was the last reciept needed before the finish. We had 360 miles to the finish in St. Johns, just north of Lansing - it was time to utilize the secret weapon.
The fuel cell. Filled all of my fuel tanks; my ST has three of them: the two factory tanks (one of which resides under the seat) that are plumbed together: plus my auxilliary tank plumbed into the other two that is actuated with a remote mechanical in-line valve - this gives me a solid 10 gallons of useable fuel.
A quick stop to the restroom was made, as this would be the last time for 5 hours straight and I must also watch my water consumption. Took an aspirin to knock down any inflammation, which I suspect hinders me daily. Put some eyes drops in to moisten my eyes. Don and Bill left out ahead of me. Route 2 was slow as always. Lot of cops. Big bubble gums perched up on the roof is always a tell tale sign at least. Passed Bill somewhere along this stretch. Crossed the Mackinaw Bridge back into the Lower Penninsula. Just south of the bridge, Don came into sight. Passed him running hard down the E-Way (I-75) now.
My favorite time of day settled in ... dusk. I'm energized and making incredible time. What do I see in front of me ? Not 100% sure, but I suspect Wing tail lights - working in and out of Cars. Finally, I catch and pass George Barker; it took me 900 miles ! Now I relax and we ride together the balance of the ride to our final fuel ending recipt around 9:45 in the evening in St. Johns. Feel pretty good about my efficiency. World class rider like George with a 20 minute head start and I caught him. Don and Bill rolled in shortly after us. We ate and talked for an hour before I departed for the ride home - another 106 miles.
Don Hostetler on the left with the braided beard, Bill on the outside of booth and George Barker on the inside.
Ride Stats (approximate) -
1,008 miles
15 hours & 26 minutes
66 miles per hour - overall average
25 gallons of gasoline
$91.65 fuel expense
40 miles per gallon - average
34 miles per gallon - low
45 miles per gallon - high
We had three riders from the Ford Motorcycle Club participating on this ride, which was their first certified Iron Butt ride. Somewhere along the last leg of the ride they were feeling a bit road weary and decided to check into the "Iron Butt Motel" for a brief respite.