It was lunch time so a stop was in order.We were passing through Sutton's Bay, and Glenn knew of a little place called the 45th Parallel Café, that he recalled having exceptional food - good enough.

The area was busy, so we had to wait awhile.This allowed us to kick back outside and Glenn even managed to get a little work done online from a bench, while on the road.
It is kind of cool - we are having lunch on the 45th parallel - and will be on it again when we arrive at the Old Mission Point Lighthouse, the next Peninsula over, in about an hour.

So after lunch, we roll down through Traverse City and head right up Old Mission Peninsula which sticks 22 miles out into the Grand Traverse Bay - creating an east and west Bay.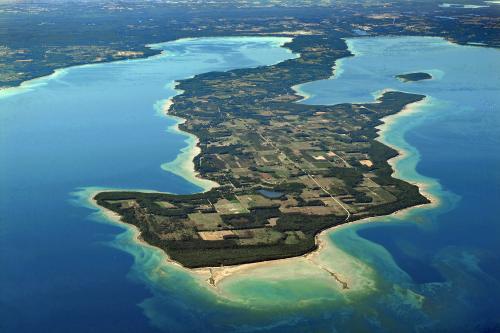 About halfway up the peninsula you come to a very scenic pull off. This area has extensive cherry orchards and vineyards.There are also many wineries to visit for those who are into that.
Glenn Jaffas
GAS GUY