-DAY 4
The early morning rain woke me a little after 4:00 AM.
It was relaxing to just lay there listening to the rain pummeling the outer fly and the accompanying winds tugging at the guy lines of the miniscule one man Seedhouse.
The unpredicted storm that blew in off the ocean dissappeared almost as quickly as it arrived.
With the coast clear, it was time for oatmeal and coffee; so after crawling out of the Big Agnes I fired up the Jetboil and brewed up a cup of Starbucks Via.
Over the years I have tried many forms of camp coffee and have found the Starbucks Via to be as good as it gets if you like a strong cup and even though it is instant - it is NOT freeze dried !
Update - Since this write-up, I've discovered a much better coffee solution. It is just a bit more to pack, but well worth the effort; the Aeropress and some premium freshly roasted local grind is my new go to.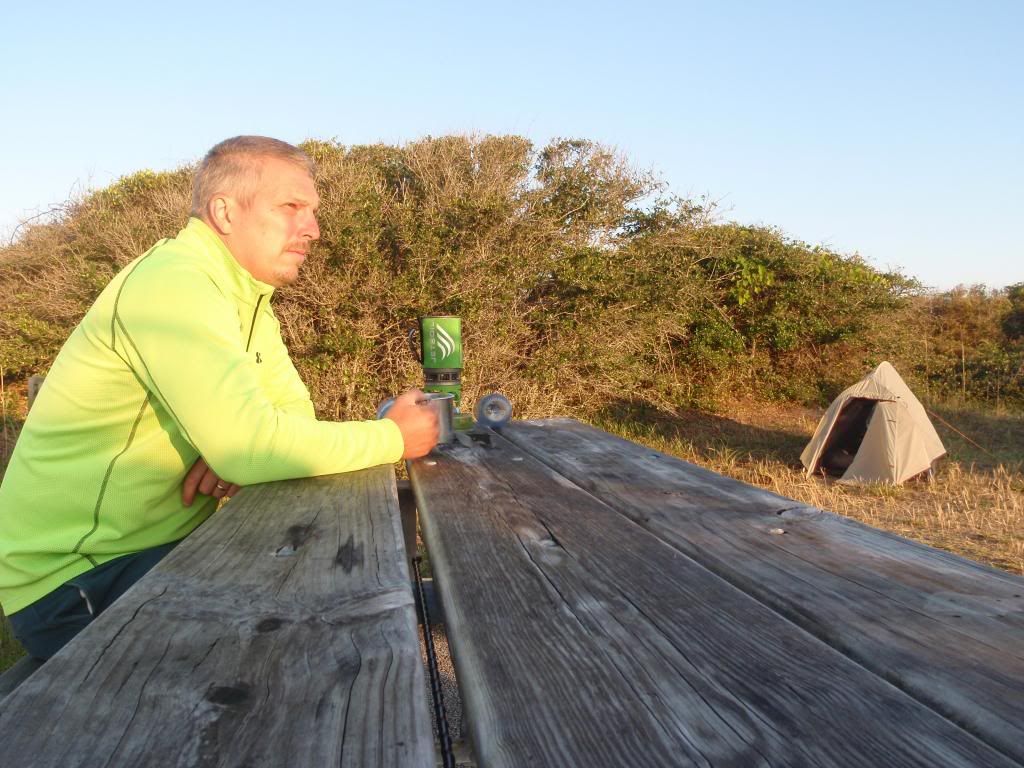 Then it is off to the back of the campground which is significantly higher - to wait for the sunrise.
Due to the location of the southern Outer Banks tapering southwest - I had to settle for the sunrise coming up over land.
You would have to be at Cape Hatteras or further North to see the sun rise over the ocean.
The sunrise over the dunes with the ocean in the background made for a impressive view anyway.