THE OUTER BANKS (OBX)
A thin broken strand of islands curves out into the Atlantic Ocean and back again in a sheltering embrace of North Carolina's mainland coast and offshore sounds.
For thousands of years these barrier islands - North Carolina's Outer Banks - have survived onslaughts of wind and sea.
Their long stretches of beach, sand dunes, marshes, and woodlands are set aside as Cape Hatteras National Seashore.
It can be a lonely place; you may walk the beach unseen except by shore birds looking for a meal.
It can be a place of discovery; you may visit the 1870 Cape Hatteras Lighthouse, one of many monuments to our encounter with the sea.
On the way down I come across Outer Banks Harly Davidson - so I pull in for a break and to browse around.
In the past I used to stop at many H-D dealers that I encountered while travelling, back when I rode a full dress Harley, so occasionally I still do.
Old habits are hard to break.
I don't remember this one last time I was through here, but that was probably 10 years ago.

A little deeper in at Mile Post 13 I come across Nags Head H-D.
Ten years ago I did stop here and they had a nice small souvineer sticker back then, but not anymore. I was hoping to score a few.

After a short chat with the lady working there that just happened to be from Michigan (Bloomfield Hills) I'm back heading south on 12.

Ahhh - Bodie Island Light house !
They offer tours up to the top, but I need to get down to Frisco and get a camping spot before they fill up.
But I am going to stop back here on the way out, and climb this thing - checking out the view from the top !
The Iron Butt Association has a ride called - The Lighthouse Tour.
The minimal accomplishment is proof to having visited 60 different Lighthouses in a year.
You can either get the dated stamps when they are offered in the visitor center or you can get a picture with your numbered flag that members can purchase.
I don't know if I will have the time to gather up 60 and finish, but I am having fun getting the ones I do.
My first Lighthouse.
More on Bodie Lighthouse in a few days.

Cape Hatteras National Seashore stretches North to South across three Islands, BODIE, HATTERAS, and OCRACOKE.

NC Hwy.12, narrow but paved, and Hatteras inlet ferry link the Islands.

The highway goes through eight villages that reflect the Outer Banks' nearly 300 year history.

The curvy bridge leading over the Oregon Inlet from Bodie Island to Pea Island National Wildlife Refuge on Hatteras Island is pretty wild.
Rolling down the road with wind swept sand dunes coming right up to the edges of the road is something different also.
And many colorful beach houses or condos, often on stilts, as you roll into and through villages.
After passing through a few more villages and some open stretches of road another lighthouse looms in the distance.

CAPE HATTERAS LIGHTHOUSE -

Built in 1870, it is the second tallest in the world, at 198.5 feet and open for climbing in the summer.
Once again, just a quick stop while making note of the business hours in the visitor center, so I could come back here tommorow and climb it.

Right now I wanted to go secure a camping spot in the dunes at Frisco, which the informative lady reassured me is the place to camp, before they filled up.

More on the Lighthouse tomorrow.

On the way in via a winding road along woods and marshes I spotted a little deer along the road.
Coming back out he was still hanging around.
Just about 5 miles down the road and I arrive at Frisco

National Park Service

campground (not to be confused with the private frisco woods campground down the road).

I'm in luck and a handfull of sites are still available.($20.00 a night)
After a quick ride through, I pick a site, and quickly set up my Big Agnes Seedhouse, one person tent.
Frisco campground is located among the dunes and operates on a first come first serve basis.

Soil of the campground is sandy and longer tent stakes are recommended.
I thought ahead on this and had made a stop into REI prior to the trip, picking up some sand/snow stakes.

There are no shade trees.

Mosquitoes can be a problem, repellent is recommended.

The campgrounds are located on the ocean side - seperated from the beach by barrier dunes.

After setting up camp, I'm off to find an early dinner and maybe a few beers since I skipped lunch.

This place looks appealing - Capt'n Rolo's.
I had a delicious North Carolina pulled pork sandwich with cole slaw on top, drizzled with an eastern North Carolina barbeque sauce, which is a light colored vinegar based sauce - out of sight.
This will be my dinner spot tommorow also, I highly recommend it.
Very nice and clean with a restaurant atmosphere, fair prices, good food and generous portions compared to other places I have eaten in the area.
Now that everthing is squared away for the evening and I am fed and watered it's time to relax on the beach until bed time.

I traverse the long boardwalk through the barrier dunes to the beach.
And arrive at the Beach.
Now this is my kind of beach.
It's in a natural state without elbow to elbow people; with the dunes at my back instead of huge buildings, and with a permit you can even bring your truck or motorcycle down to the beach.
Now that has got me to thinking.
It sure would be cool to have the KLR down here and riding along the firmer packed sand just before the surf. !!
I stretch out my towel and kick back, letting all the stress of Detroit just slip away.
Laying there listening to the surf crash in and the birds sing with the light, fresh air hitting my body, it's like magic and I even dose off for a few moments.

After a spell, I come to; sitting up and looking down to my right, into the setting sun, which creates a kind of hazy look as my eyes try to adjust.

I must be dreaming.

Horses in the Ocean ? Frolicking in the surf ?

I never thought I would see such a thing in this remote setting.

I start heading that way with my camera hoping to capture a picture.

They are heading the other direction, so I start jogging to catch up before it's too late.
The riders see me photographing them and smile while riding to shore to talk

.
They were super friendly and sweet girls.
They were North Carolina girls down from the Winston-Salem area.
I told them I never thought I would see horses out in the surf and how awsome it was.
They said they could ride them anywhere the trucks were allowed with a permit, and that the horses loved to ride out into the water.
I wandered around the beach taking it all in and feeling the spirit of the location.
It definately has a good vibe here !!
Every so often the camera would come out and an attempt at capturing something significant to portray the landscape would be made, like some ripples in the sand where the beach transitions into the dunes, or an opening between some grassy dunes leading to the beach and ocean beyond.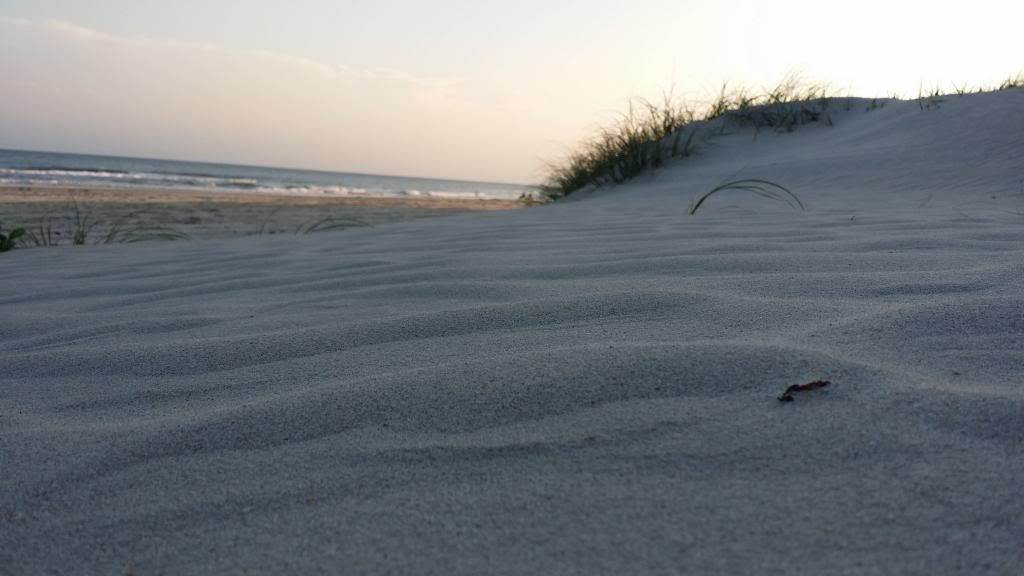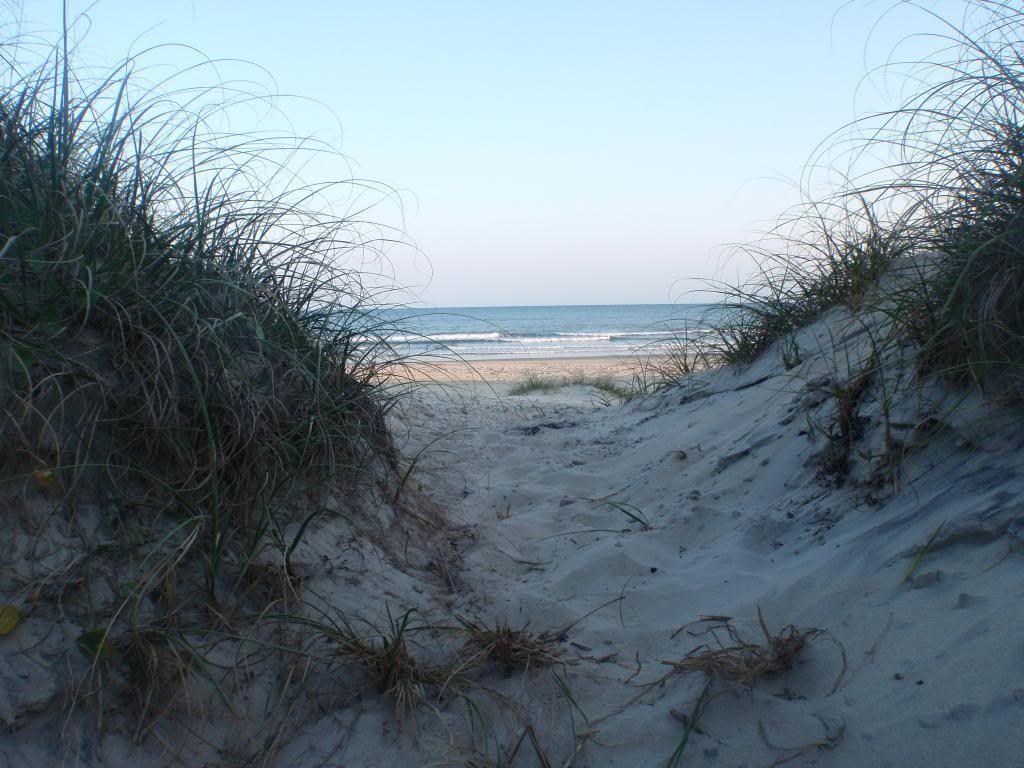 Not having true photography skills or equipment can be frustrating, but I try to be as creative as I can - it's fun trying.

As the sun was setting, most of the remaining 4wd's were leaving the beach.
Occasionally someone would get stuck trying to get through the piles of churned up and rutted sugar sand at the exit location if they lost momentum.
A couple from New York City in a rented import SUV got themselves stuck and did not have a clue.
They didn't even own a car back home.
I helped them get unstuck and redirected and coached him on getting a running start and maintaining momentum until he was up and out of the uphill exit ramp area.
A few last minute shore fisherman would pull up and try their luck for awhile, but before long they would pickup and move along.
Before you knew it the beach was desolate other than the sounds of a few birds and the surf.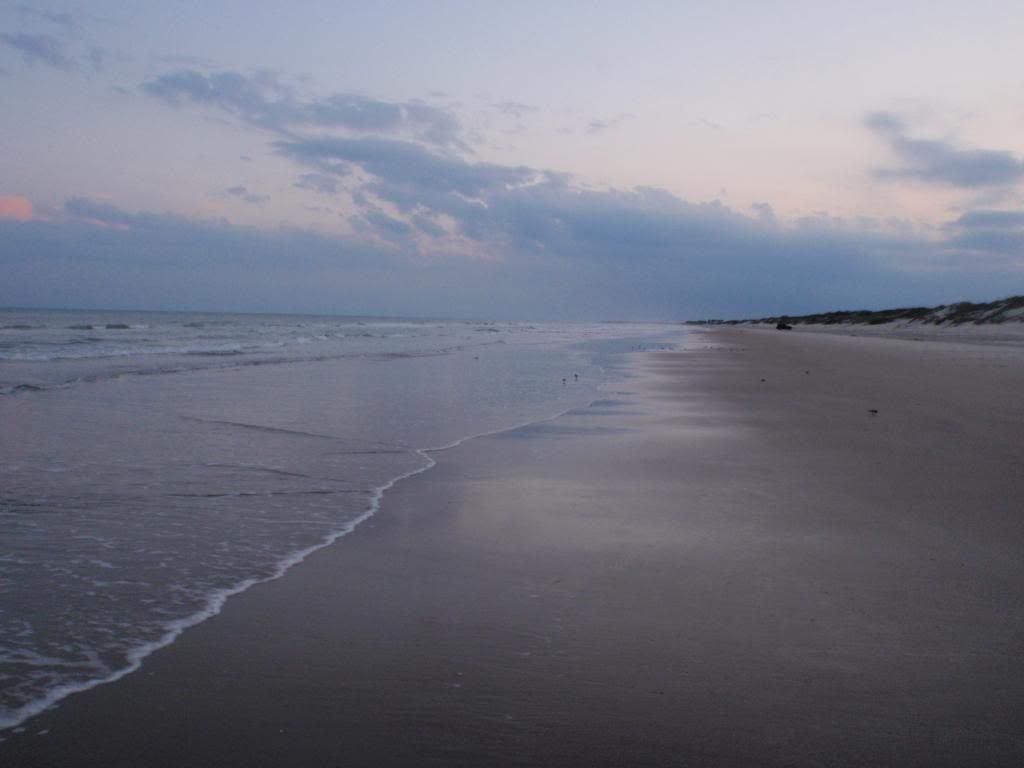 It was a long day and time for bed, as I was planning on getting up early to catch the sunrise, so I headed back to camp.


-The beaches along Cape Hatteras National Seashore sparkle at night.
When you kick the sand, you disturb tiny dinoflagellates like seasparkle.
A chemical reaction causes them to glow with a blue-green light.


I read and wrote this down about a year ago wanting to walk the seashore at night and experience it.
Would you believe I forgot all about it until I got home and didn't walk the beach at night ?
Oh well, next time.
It's an excuse to go back.


As far as the weather is concerned, I feel like I hit the jackpot !
Frisco's Friday night weather statistics @ 9:00 PM.
68 Degree's
29.98 in. pressure
51 Degree dew point
5 MPH Easterly wind
54 percent humidity
75 percent cloud cover
sunrise@ 5:53 AM
sunset@ 8:06 PM


Even with some cloud cover, there were big openings in the sky full of stars - to gaze at.

With the perfect temperatures and sweet ocean breeze, there were virtually no bugs to be concerned with.
The DEET never left the saddlebag.
After crawling into my Cosmic Down - the ocean lulled me to sleep.