-OCRACOKE ISLAND
The First destination today is Ocracoke Island.
It is seperated from Hatteras Island by Hatteras Inlet.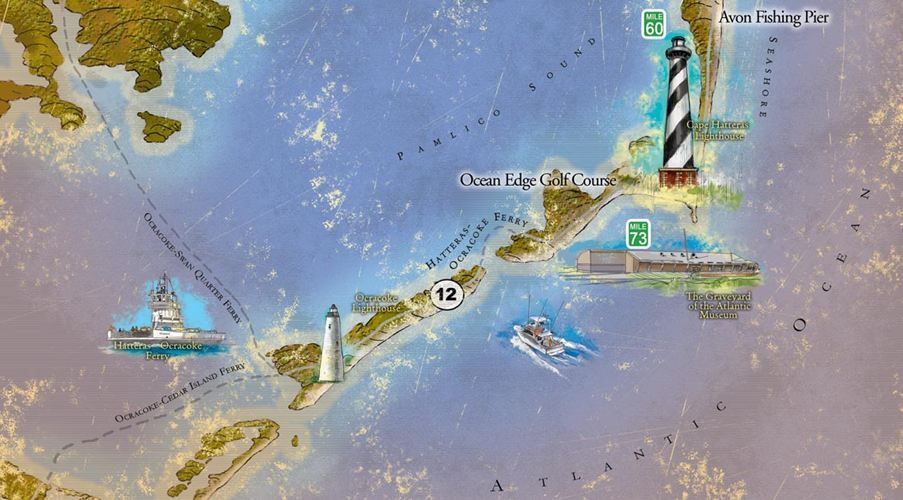 After a very short ride to the Hatteras free ferry service, the ST was ridden onto the ferry boat "Croaton" and we set off into the Pamlico Sound enroute to Ocracoke, which is about a 40 minute trip due to having to swing way around the sand bars that lie just offshore.
It was a beautiful day and I walked around the deck enjoying the views and fresh cool air coming off the water while talking to a few other passengers.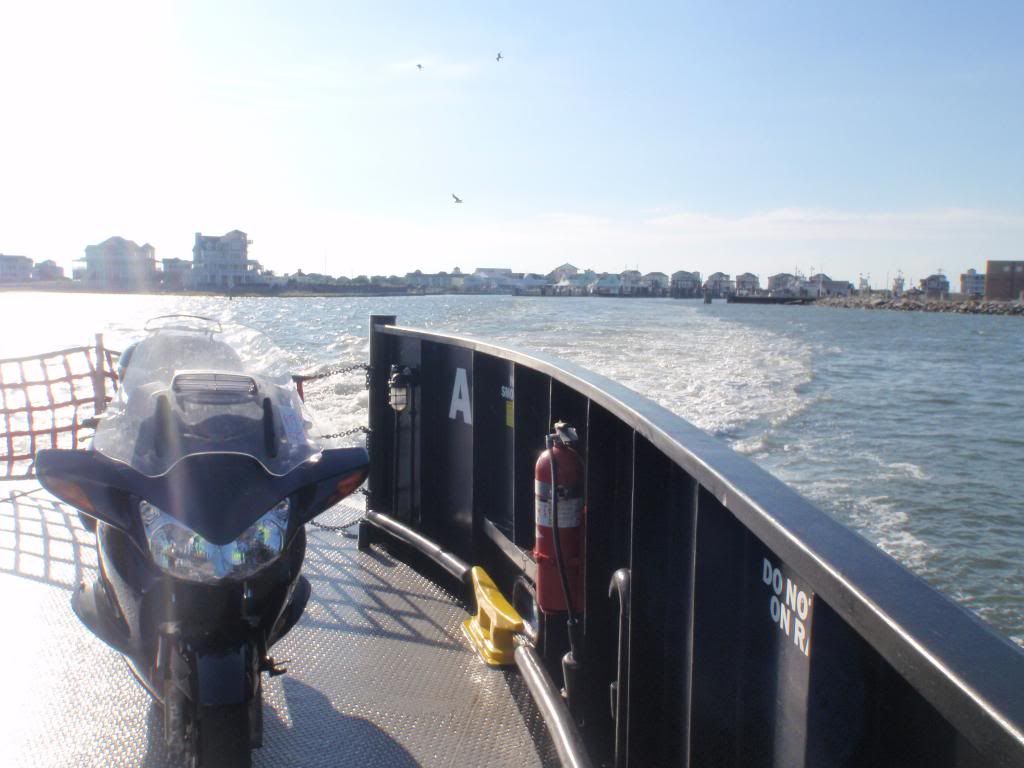 A highlight was seeing a few Dolphins surface briefly while swimming along with the ship.
That is a first for me.
Something about loading your bike on a ferry and setting out across a body of water just makes you feel like an adventurer !!!
After being safely delivered to the Island I set off for the village of Ocracoke which lies on the far end of the Island.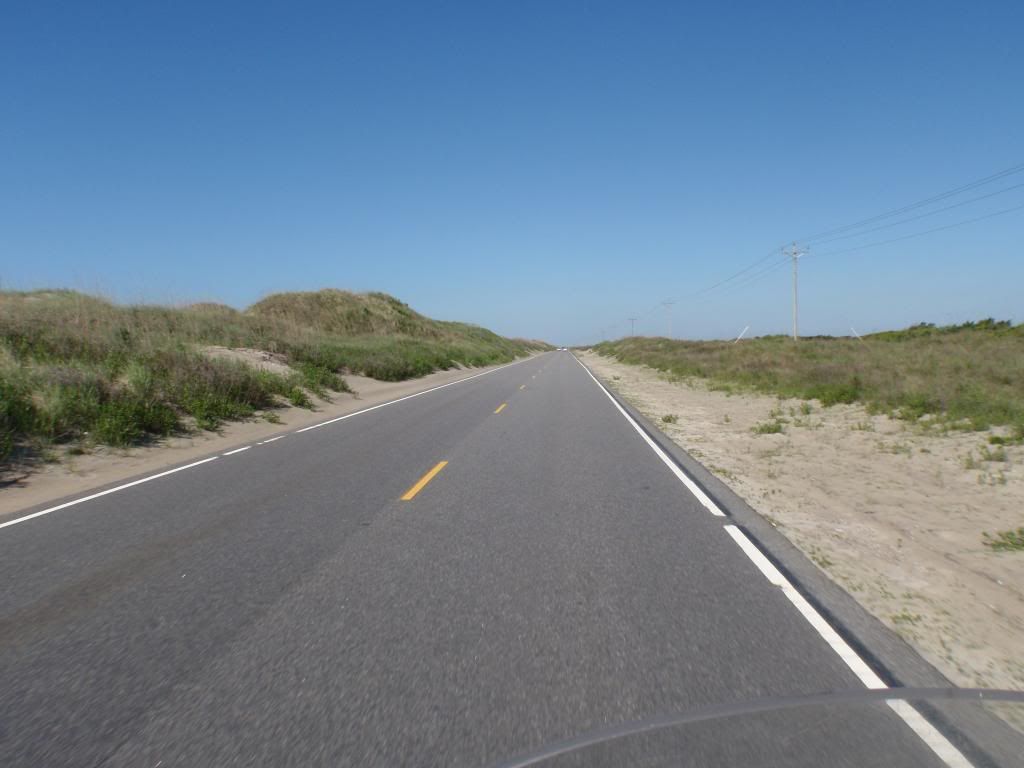 -The isolated island and it's small harbor village retain much of their early charm and character.
Because it is close to the gulf stream, the island offers excellent shelling opportunities.
-Ocracoke Island was the hideout of Blackbeard The Pirate.(Edward Teach)
He was also killed here.
After rolling into Ocracoke village and checking out a few stores - I searched out and found a restaurant that wasn't too crowded.
Wanting to try some different things out of the ordinary, I had a smoked local Bluefish omellette with Boursin cheese and green onion at the Flying Melon.
With my appetite satisfied it was off to find Ocracoke Lighthouse !!
Just across Route 12 from the pony pen is a boardwalk leading to the beach, so I took a walk down to check that out - before heading back to the ferry.

Another pristine and remote beach, you have to love that !!!
This guy caught a small Sand Shark while I was there.
While traversing the boardwalk back to the ST,I passed the 2 riders again and made a comment to them that they must be following me.


Back at the ferry,the other 2 riders board along with me and then I say,"Ok,now I know you are following me" and we all have a laugh and introduce ourselves.
Both these guys turn out to be super !!!
They are from North Carolina and are co-workers who both belong to the BMW MOA club called the Knobbies.
The club is called Knobbies because of origination from Knob hill, not knobbie tires.
They are doing a club ride called the 4 corners of North Carolina and having a good time touring and camping in the process !
Barry is riding the K75 and Craig is riding the V-strom.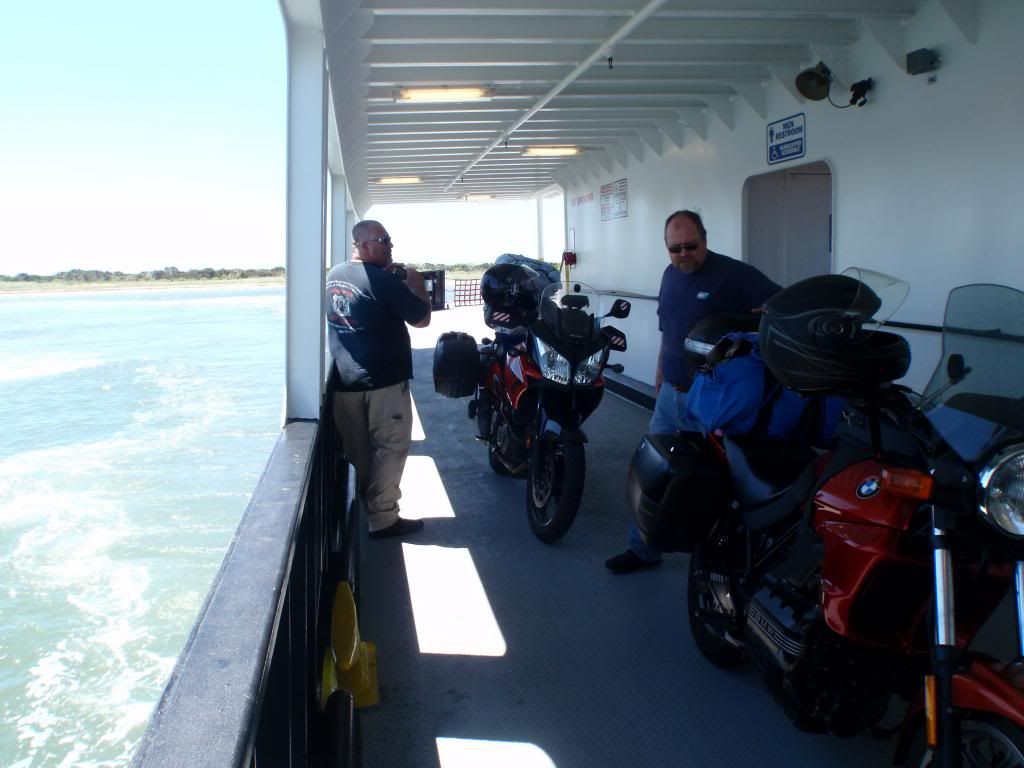 The ride back to Hatteras Island took an hour due to the strong headwinds so we had a long discussion and even spotted a couple more Dolpins surface.
I remembered all the campgrounds were full due to Memorial day weekend, so invited them to share my camp, which was paid up till tommorow.
They were grateful, so we agreed that after visiting the Graveyard of the Atlantic museum together, which was right next to the ferry docks, I would take them to the camp so they could get situated while I ran over to Cape Hatteras lighthouse and climbed it before they closed for the day.

-Treacherous waters off the coast of the Outer Banks bear the name Graveyard of the Atlantic, a grim but fitting epithet.

-Over 600 ships wrecked here as victims of shallow shoals, storms and war.

-Diamond shoals, a bank of shifting sand ridges hidden beneath a turbulent sea off Cape Hatteras, has never promised safe passage for ships.
But seafarers often risked the shoals to take advantage of the North-or South-flowing currents passing nearby.
Many never reached there destination !!!

We had a great time visiting the museum and they even had a impressive gift shop where I bought a couple bracelets and marble Dolphin desk ornaments for my daughters.
The museum gift shop had interesting and quality items instead of the junky stuff I usually come across while on the road.
After getting my new guests into the campground I also warned them of a few hazards.

The one on the left is some kind of sand cactus that could hurt you bad if you stepped on one, as they have very long needles; the tiny sand burr on the right believe it or not can draw blood.
It is so small you would think the spurs are soft but they are not !!
You often see dogs start limping and their owners having to remove a sand burr from their paw.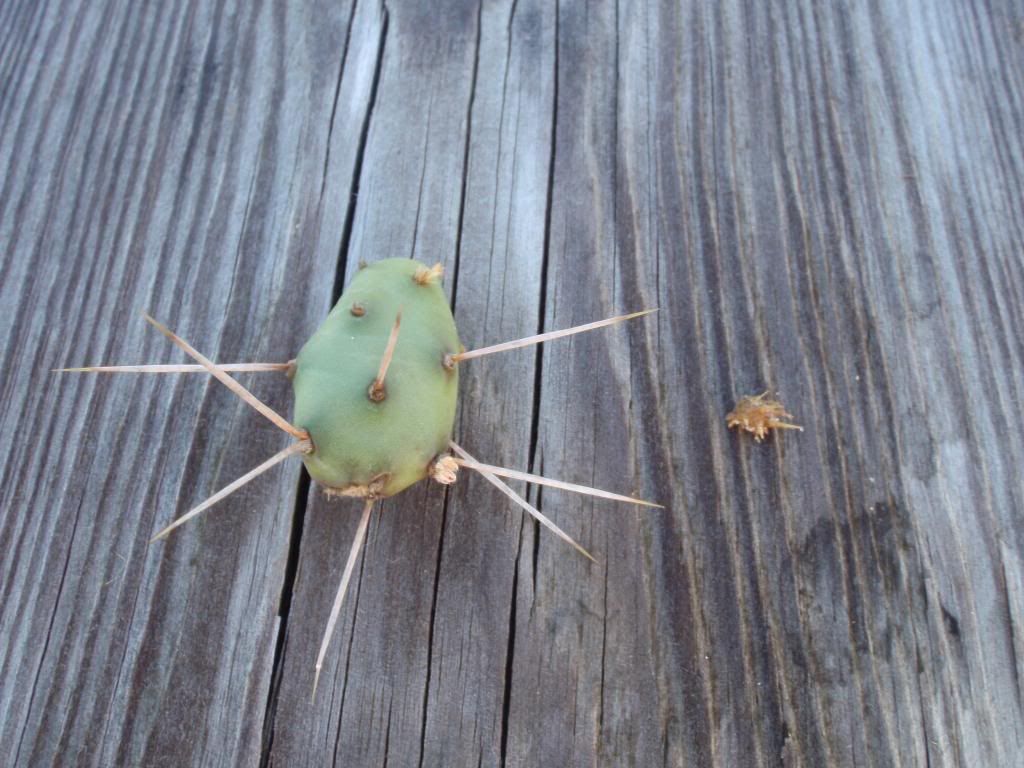 Back to Capt'n Rolos' for dinner. Tonight I had fish taco's. Would you believe it is the first time I have had them ?
They were delicious !
Fresh local fried (striped bass, a.k.a Rockfish) strips along with crispy shredded cabbage and cheese topped with a spicy salsa in a soft tortilla.
At first I was hesitant upon ordering fish tacos - but in the end I made the right choice.
After all, a man can't live on cheeseburgers.
Back at the campground my new found friends had set up their tent and left me a note saying they would be back shortly with food to grill and beer to drink and that I was welcome to join them.
I took this opportunity to go down to the beach and spend a few last hours there as tomorrow morning I would be breaking camp and heading back northwards.
<
I just sat on my towel looking out at the ocean and listening to the music it played, getting lost in my head and contemplating life as I often do.
I don't know if I am cursed or blessed with being an intense thinker and analyzer.
These days mostly natural things such as the dynamics of life and death, along with spiritual and psychological thoughts. Of course, motorcycles and travel are also at the forefront.
I suppose being an intense thinker, along with my teenage years and early adulthood being forged with many hardships, has taught me how to entertain myself and feel right at home lone wolfing it - and usually even finding my comfort zone there.
Don't get me wrong though, I also enjoy social interaction and have strong bonds with a few riding partners - enjoying our rides and adventures together.
As with all things in life, an ever elusive BALANCE is sought after.
After getting my fill of natures therapy, once again I'd traverse the boardwalk across the barrier dunes back to camp.
Holy cow! Barry and Craig were serious when they said they were going to cook. Pots and pans, cups, bowls, a cooler, condiments, a camp stove, and my god...even cast Iron!!
They had stuff strewn from one end at the camp site to the other.
After standing there evaluating it all, I said, "All that came off your bikes?"
I'll bet bet there was nothing left in the kitchen at home, and their wife and kids had to eat at McDonalds every night waiting for their return with all the kitchen utensils!!
With that being said, I have to give those guys credit. They grilled up fresh local Tile fish and boiled shrimp to dip in their cocktail sauce along with corn on the cob and I think even potatoes all the while drinking beer on ice in their collapsible cooler.
Even so, I teased them often about packing so heavy and spending so much time cooking and cleaning up, and preached a little about a more minimilistic approach.
These guys were really outstanding human beings; completely down to earth; my kind of guys and the little time I spent hanging out and talking with them was great and I am better for it.
It is "chance" meeting like these that really adds a dimension to a journey and makes it memorable, and they most often happen when you are traveling solo, so don't be afraid to take off on a trip by yourself, as you never really know what exciting experiences await you.



You might even find yourself !



After returning home, Barry sent me an email and picture.


Hi Jeff,
Just wanted to say again that it was a pleasure meeting you and we appreciate you sharing your campsite with us Saturday. Craig and I had to head on north Sunday to find our last corner and get our documentation so we didn't linger. We had no problem finding it unlike what we had been told. I attached a photo. We then headed west through Virginia on US hwy. 58 over to Buggs Island Lake and stayed Sunday evening at a very nice campground. It would have been a short hop for you but it was a long day for us. 58 was 4-lane but traffic was light, the road surface was great and it goes through a very scenic part of VA. Hope your trip home was uneventful and you had a good visit with your dad.
Anyway hopefully you can get down this way in the future and we can catch up with you. I went to the ADVRider website and enjoyed some of the pictures. Haven't had time to read any of the threads yet but we'll look for your report from last weekend. I have been considering your advice on packing light and have decided to start moving in that direction. I need a new sleeping bag so when I get one stuff size will be a big issue. A jetboil system or smaller type stove and gear is tops on the list too. Craig and I enjoy the camping part as much as the riding so we do like to cook in camp and so I will need to continue to carry some cooking gear but I promise to get rid of the cast iron frying pan!
Oh yeah I think I left my flashlight sitting in the driveway at the campsite. You are welcome to use it as it is very high quality plastic and obviously very expensive HA HA.
Be safe out there, have a great week and take care.
Barry Huskey
Hickory, NC